Hello and welcome to our new look GameGuru weekly news. We've a lot to go though and this week will be focusing more on what our excellent community is up to.  Of course that doesn't mean you won't be getting all the latest development news, but we also hope to bring you an insight into the minds of your fellow developers as well as maybe a little more on the inner workings of GameGuru production.
Many of you will recall that Lee and Rick recently returned from Play Expo a couple of weeks ago and we were very pleased with the response GameGuru received, especially the feedback we received on it's ease of use. We couldn't have been happier than to see what may well be one of our youngest users delve into GameGuru.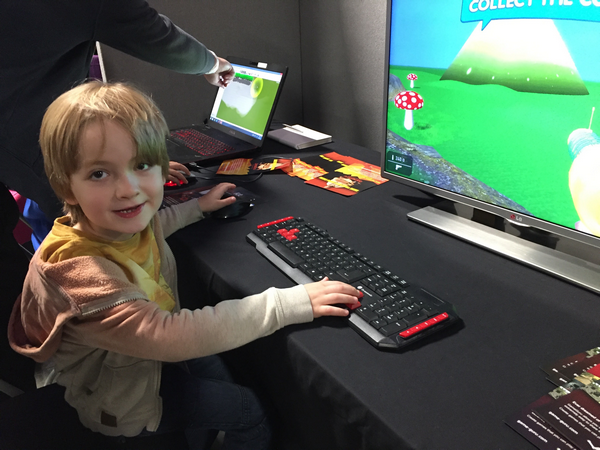 Young Charlie can be seen here enjoying a game of Cartoon Antics and we're sure is only a few weeks away from creating his own masterpiece.
We took advantage of this opportunity to ask one of the world's future developers some questions;
Q: How did you first hear about GameGuru?
A: I saw it on Daddy's PC.
Q: Why do you like GameGuru?
A: I like creating new worlds, like putting grass in, I like buying things from the shop with my birthday money.
Q: What sort of games do you make with GameGuru?
A: A city game and a door game. I want to make a racing car game.
Q: Are there any new features you'd like to see added to GameGuru?
A: Different types of water, tree branches and a leopard.
Q: Looking ahead in life, what's your ambition?
A: To be a Mister making games.
 We wish Charlie all the best and hope he enjoys the updates and new features to GameGuru as we release them.
We also has a great time speaking to some parents and one of the things that was universally agreed upon was the need to be able to leave their child in a safe development environment, while still allowing the same parents to create higher rated games. So, I'm sure all developers, especially those with young children with inquiring minds will be pleased to hear that we're now planning a parental lock feature so that guns, blood and violence can be controlled. This will be in the DirectX11 version early next year.
While we're on the subject of ease of use, we set ourselves a small internal challenge of creating a playable game in 60 seconds and although even we'll admit the results were basic, we were very pleased with the small level Lee created in just 1 minute. We feel it really shows we're on the right track and that as we move forward, balancing ease of use with powerful results will see GameGuru go from strength to strength.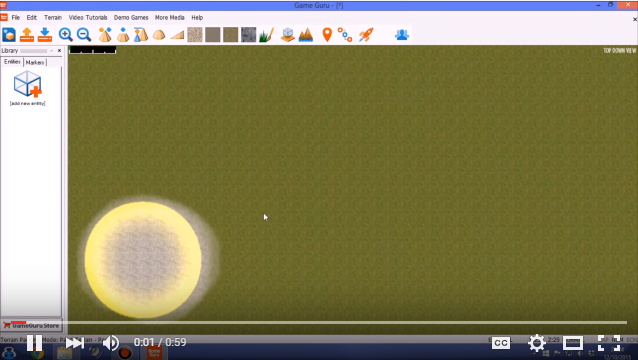 Click on the image above to see how easy it is to make a simple level.
Of course, not all of our users make levels that quickly, in fact, it's fair to say that the attention to detail by many of those developing with GameGuru is wonderful, very well thought out and shows a lot of promise.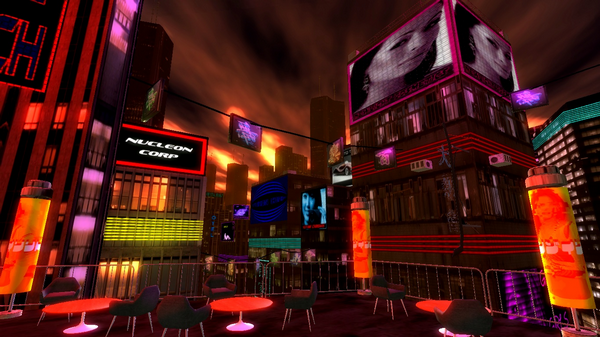 First off is this excellent high-tech city scene from ShadowMan. Using a mix of media from Mega Pack 1 and Mega Pack 3 this screenshot really showcases what a little bit of work can achieve.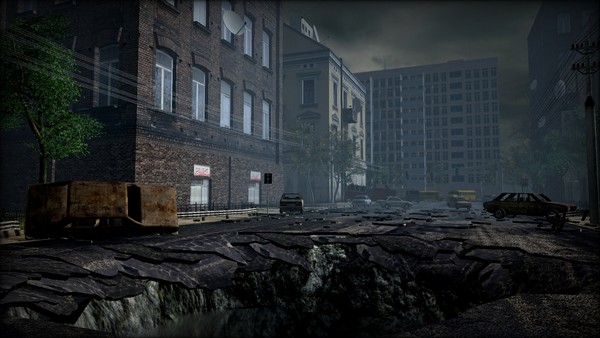 Also this week, and on a similar city-based theme is this great post-apocalyptic game in progress from Tarkus1971. He puts media from Mega Pack 3, the City Builder pack from store artist Valuable Assets and individual items from Pasquill's new vehicle pack to great use.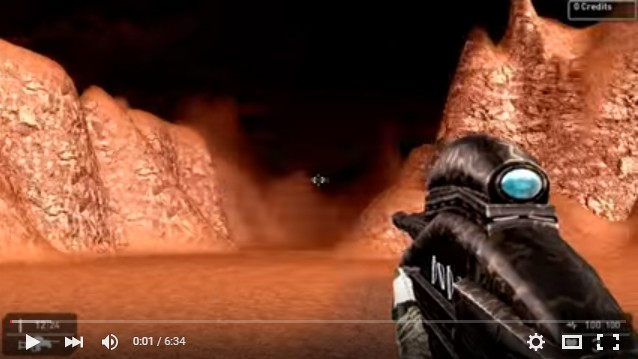 Our last look at community developments this week is this great, ongoing project called Mercenary from GameGuru user Smallg. He's been known for his excellent scripting support for quite sometime but this is his first full project that we are aware of, and it's looking great. You can read all about it here as well as watch other WIP videos.
We hope you've enjoyed this deeper look at our community, and of course if you've anything you'd like us to feature feel free to email Dave at davehawkins@thegamecreators.com. We can't promise we'll feature it, but even if it's not newsletter ready, Dave will be happy to give you some pointers toward what you'll need to do to make it a worthy showcase.
What's new in GameGuru
We released our latest beta (Beta 11) to our beta testers and once again we've seen a significant performance improvement. We felt we'd gone as far as we could before our move to DirectX11, but never a man to give up, our lead performance coder Dave Milton has returned to the code for one last push at getting some extra speed from lower end machines. We'll let you know how he gets on in next week's news.
After this last performance boost, we'll be moving onto bug fixing (and maybe adding a couple of small features) before returning once again to our beta testers and finally onto you, our very patient and understanding users.
That's it for this week, we hope you like the newer, more focused look and we'll see you all again next week.
Goodbye for now,
The GameGuru Team.