Prepare yourself for a high-quality PBR collection of props to populate the construction yards, building sites, workshops and sheds of your next game.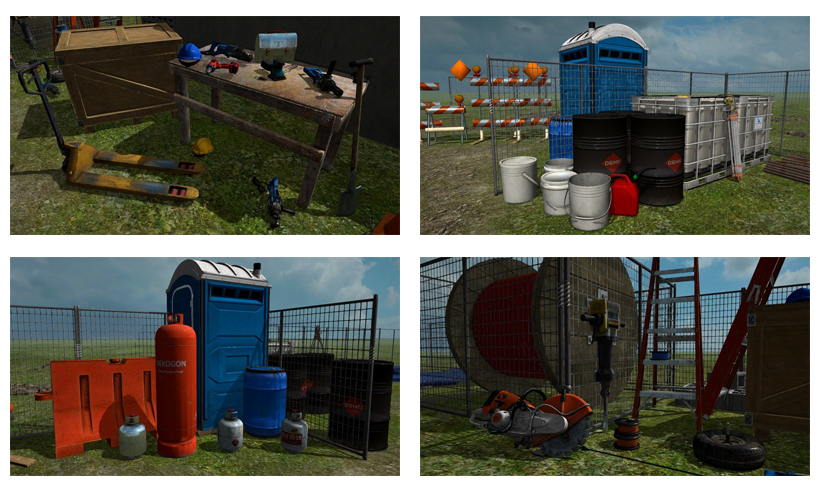 This DLC is crammed with 96 items that you might typically find on a site under construction, ranging from large industrial supplies to smaller tools you might find in your shed:
2 x Industrial Barrels
4 x Cardboard Boxes
8 x Assorted Brick Piles
Cable Reel
Petrol Canister
2 x Cinder Block Stacks
5 x Assorted Cement Bag Stacks
3 x Concrete Pipes
Construction Fence, Brackets and Feet
7 x Various Construction Pylons
3 x Cord Pieces
Crate, Base and Lid
Electric Drill
Hand Forklift
2 x Hard Hats
Jack hammer
Ladders (open and closed)
Lunchbox
4 x Paint Buckets
Petrol Cutter
7 x Plywood Pieces
Plywood Table
Portable Water Tank
PortaPotty
2 x Propane Tanks
2 x Rebars
2 x Rebar Cutters (corded and cordless)
5 x Roadblocks
Roadblock Flag
Sander
Shovel
2 x Spools
Surveyor Stand (open and closed)
Tall Gas Cylinder
6 x Tarps
Traffic Barrier
2 x Wheel Barrows and wheel
All assets fully support Physically Based Rendering so you get high-quality representations of the item materials such as paint, plastic, metal, and wood. The attention to detail on the items means the player can inspect them at extreme close range and discover the minute details of the item, adding to the realism of your game scenes.
To use this pack, when you run GameGuru and click on Add New Entity in the Library you will see a category called "Construction Site Pack". Click on this to start browsing through your new game assets. All the assets in this pack are royalty-free, meaning any game you make with them can be legally sold by you.